Kathryn Rutherford is an internationally recognized, classically trained, award-winning, fine artist, photographic and fine art conservator, as well as a fine art, photography, and digital instructor that offers you her extensive fine art education and unique artistic talent to create a personal, one of a kind, story-telling, Spirit Painting, fine art masterpiece painting, original portrait in oil, watercolour or digital painting designed especially for you.
Commission your own unique fine art painting of dramatic light and shadow or order a Spirit Painting that tells your own individual story that stirs emotions and memories about family histories, loved ones, or personal statements and desires. Kathryn's one of a kind fine art offers you the opportunity to turn your stories, memories, thoughts, and wishes into original heirloom fine art.
Not ready to commission your own personal work of fine art just yet? Purchase one of the original fine art paintings available on this website and at quality retail and online galleries representing Kathryn Rutherford Fine Art.
Fulfilling all your original fine art, archival restoration, photographic
and fine art reproduction, and art education needs.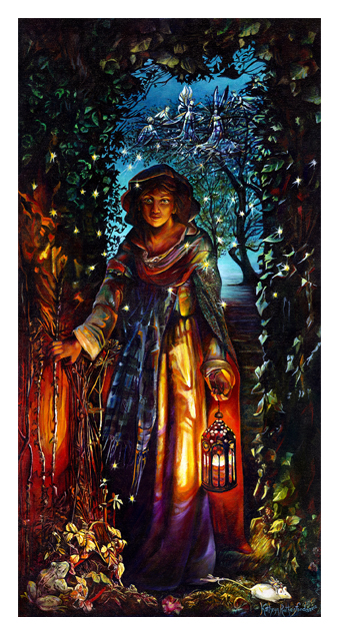 Kathryn Rutherford's master level, award-winning, archival preservation skills and historical art and photographic knowledge also delivers heirloom quality photographic and fine art restorations right to your door no matter your location. Paintings and portraits of ancestors and loved ones can be restored, altered, and preserved forever as archival photographs, heirloom reproductions, and even as simulated tintypes using talents and procedures recognized by such corporations as Kodak, Fuji, and Epcot Center with specific offerings only available at Heirloom Art Studio.
Classes, workshops, online learning, and critique in art, digital, and photographic instruction are also available giving you an opportunity to learn valuable information that will transform your own art and photography with personal attention.

Kathryn Rutherford Fine Art and Restoration from Heirloom Art Studio will meet, or exceed, your most heartfelt expectations, the needs of your family history, fine art and photographic collections, creative original fine art desires, and indulge you with superior personal attention and Customer Service.
Heirloom Art Studio ships Kathryn Rutherford original fine art in oil, watercolour and digital paintings, photographic and fine art restoration, and specialty reproduction printing worldwide from their Wears Valley location next to the Great Smoky Mountains National Park of East Tennessee. Owner, Kathryn Rutherford, considers it a privilege and honour to create an original work of fine art that tells your personal story, care for and preserve your priceless family collections entrusted to her expert and skilled hands or to turn your photographic images into works of lasting original and creative fine art, archival photography, decorative or funtional merchandise or specialty reproduction and giclee prints. Heirloom Art Studio, also offers custom picture framing, full colour dye sublimation printing, graphic and web design, web hosting, giclee reproduction printing for artists, photographers, and specialty clients, and custom screenprinting.
1980-2016 All Rights Reserved. No Image may be reproduced from this website in any form without written permission from the Heirloom Art Studio or the individual owner of each image.